The Palm Springs Dispensary
Whether you're a desert local looking for a consistent dispensary or just in town for leisure, make sure to stop by!
Happy Hour between 4pm – 6pm
15% off First Time Customers
10% off for Veterans, Seniors 65, and Locals!
Favorites from our Wide Selection of Products
Visit The Best Palm Springs Dispensary
We are conveniently located just past the windmills when entering Palm Springs and the Coachella Valley. Off the I-10 freeway exit 120 Indian Canyon. Our cannabis delivery service serves Palm Springs, Desert Hot Springs, Cathedral City, Rancho Mirage, Palm Desert, Indian Wells, La Quinta, Indio, and Coachella. Our mission is to provide the best cannabis prices and high-quality products for our customers within a comfortable, clean, and professional environment.
Introducing
Your New Favorite
Dispensary in Palm Springs
(Formerly Bare Dispensary)
Fast Cannabis Delivery Service in Palm Springs and Coachella Valley
Why pay more when you can get the best deals right here? Our local Palm Springs Cannabis Delivery and Dispensary store front are committed to providing our customers with the highest quality products at the most competitive prices.
Whether you're a seasoned connoisseur or a curious newcomer, our shelves are stocked with an impressive range of strains, edibles, concentrates, and accessories. Our commitment to affordability means you can explore the world of cannabis without breaking the bank. From classic favorites to cutting-edge innovations, we've got it all!
A Variety of Cannabis Product Types
At The Palm Springs Dispensary, our cannabis shop and delivery service believes in not only offering the best products but also delivering exceptional customer service. Our team of knowledgeable and friendly bud tenders are here to guide you on your cannabis journey. Whether you have questions about strains, dosages, or consumption methods, our experts are always ready to assist you in making the perfect choice tailored to your preferences.
Visit Our Cannabis Dispensary and Meet the Knowledgeable Team 
We love treating our loyal customers, and that's why we offer exclusive specials and promotions regularly. You'll be delighted to find surprise discounts, bundle deals, and loyalty rewards that make every visit to The Palm Springs Dispensary a delightful experience.
Prepare yourself for an elevated experience like no other! Step into our welcoming oasis, where the aroma of the finest cannabis blends with the warm and friendly ambiance. Our mission is to create a space where you can explore, learn, and enjoy the wonders of cannabis in a comfortable and safe environment.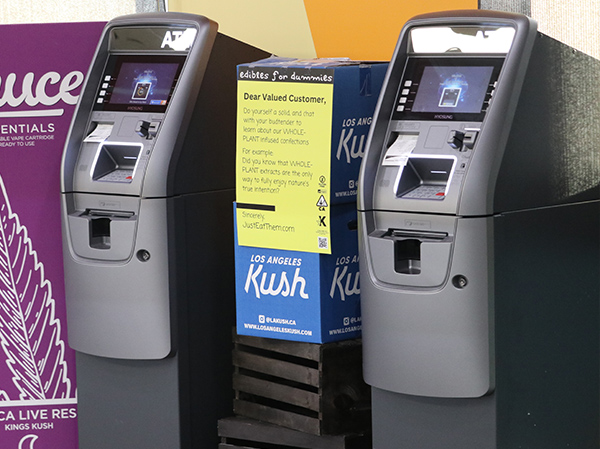 Cash Only with Convenient ATMS
Remember to bring cash with you when you visit our dispensary in Palm Springs. If you do forget, we conveniently have ATMs on-site to help you quickly make your purchase.
Cannabis delivery and pickup orders are also cash only.
Contact us to place an order or stop by for a quick pickup! Our cannabis retail is fast and our marijuana delivery service covers the regions of Palm Springs, Desert Hot Springs, Cathedral City, Rancho Mirage, Palm Desert, Indian Wells, La Quinta, Indio, and Coachella.
Meet Exclusive Cannabis Brands at The Palm Springs Dispensary
When you visit our store you have the chance to meet representatives of top brands that are consistently delivering high quality cannabis, vaporizers, edibles, tinctures, concentrates, live rosin, and more!
Embark on an enlightening journey at our medical and recreational cannabis store, where a selection of top-tier brands awaits. Discover the unexpected, as each visit promises a new meet and greet with reputable product vendors. Learn from their handpicked offerings and delve into the world of cannabis with confidence.
Experience Fast & Convenient Cannabis Delivery in Palm Springs
We are your trusted source for premium products! Discover a wide selection of top-quality cannabis products brought right to your doorstep in Palm Springs. Our reliable and discreet cannabis delivery service ensures that you can enjoy the benefits of cannabis in the comfort of your own home.
From soothing CBD options to uplifting strains, we offer something for every preference. Explore the Palm Springs cannabis scene with our hassle-free delivery services – providing relaxation and relief has never been easier!
Formerly Bare Dispensary in Palm Springs.